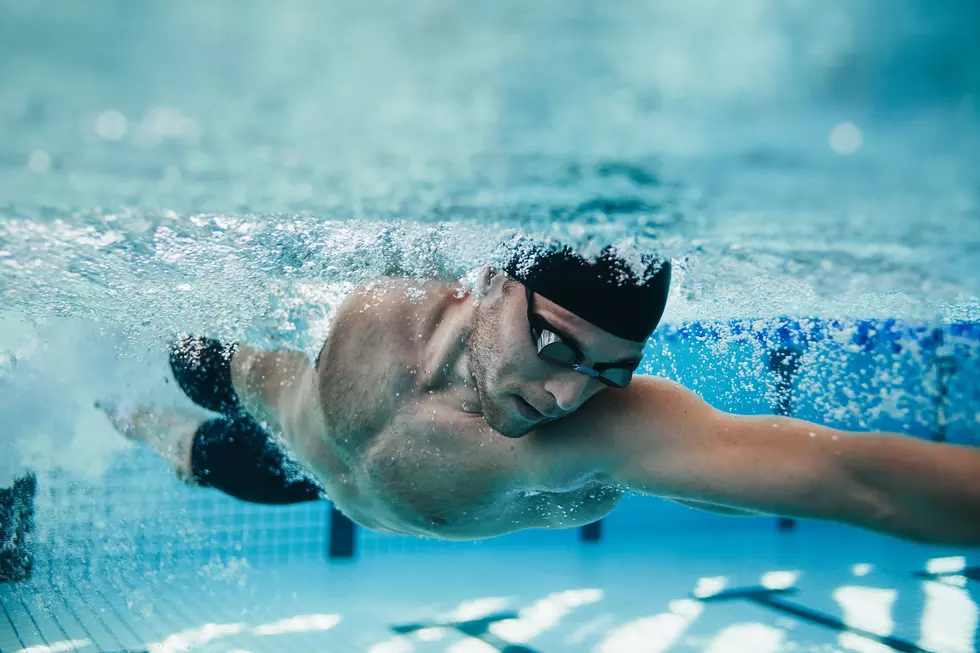 Great Falls set to host Montana High School Association State Swim Meet
Jacob Ammentorp Lund
The 2023 MHSA STATE SWIM MEET is scheduled to be held at Great Falls High School February 10th & 11th this year. Click HERE  to see the swim meet schedule.
Great Falls Swimming team head Coach Ed McNamee spent a few minutes with Baker Bob talking about hosting the state meet and previous success:
Baker Bob: Talk about your success these last few years and how this season has progressed.
Coach Mac: For the last couple of years, we've been fortunate to have a lot of very athletic and gifted kids that came to work hard. And so the attitude goes back to probably about the Lady Rustlers back to 2008 through 2012,
that we were fortunate enough to win five state championships in a row.
And it just kind of continued on to do that for the last couple of years. It's been nice to be able to bring everyone. 2021 was a special one, because we had a state meet. Because of COVID even though we didn't have a state championship that year that all four teams won a trophy. That was exciting for us last year in 2022 that the girls finished in first and second and the Great Falls High guys sneak in there for third. It was pretty neat and special. So this year going into the state, it's going to be a dogfight. A little bit curious to see how it's going to play out. I think on the girl's side, we've had a lot of success outside of the Kalispell Invitational on the first weekend of the year. Glacier got the best of us there. But since then, both the Lady Rustlers and the Lady Bison have finished in either first or second in every meet they've had. And when they do finish second, it's to the other team. So we've had a lot of success this year for the regular season. There's a lot of good things to hang our hats on. Great Falls High guys have been continued to see success. The Rustler boys are rebuilding, but they're doing really well. I'm really excited to see if we can score more points coming up at state.
Baker Bob: The Bison/ Rustlers with the success they've had, they've been fighting for, but now they've got large targets on their backs. Speak to that.
Coach Mac: Well, yeah. Baker Bob, That's one of the things that's happened this year is like, you got to get it through to the seniors. If you go back to 2019, 2020 season is that all the senior classrooms around the state has been looking up at us for a long time. So it's a four year cycle. And so that's all they know around the state is that, One, Great Falls this is where you have to come for state. Two, you've had to sit around and watch our teams get trophies. So I know if I was coaching,
I'd have to make sure that our kids had a chip on their shoulder coming in to do that.
So the success, you switch from being the hunter to the hunted. So now it's our job to make sure that we come to play and come to compete every single time because we're going to get the best from every team, regardless if it's a duel versus the Havre Blue Ponies or it's going to be the state prelims. We're going to get the best from every team every time we step out there because of our reputation, because of what the kids and the teams have earned.
2022 State Class AA Swim Meet Results:
Girls:
1 Great Falls High School  203 points
2 CM Russell High School 179 points
3 Billings Skyview High School 160 points
4 Glacier High School 105 points
5 Missoula Sentinel 98 points
Boys:
1 Missoula Sentinel 207 points
2 Glacier High School 177 points
3 Great Falls High School 141 points
4 Billings West High School 118 points
5 Gallatin High School 117 points
2022 State Class A-B Swim Meet Results:
Girls:
1 Billings Central Catholic HS 115 points
2 Whitefish High School 48 points
3 Bigfork High School 46 points
4 Hardin High School 36 points
5 Columbia Falls High 22 points
Boys:
1 Billings Central Catholic HS  85 points
2 Whitefish High School  65 points
3 Columbia Falls High  38 points
4 Hardin High School  35 points
5 Polson High School  26 points
If you have a story idea or something you want to learn more about, give Randy a call at 406-788-3003 or send me an email at randall.bogden@townsquaremedia.com
LOOK here- how many of these places have you visited?
The Best Swimming Holes in Idaho and Its Surrounding States
Cheapism.com
recently published a list of "Where to Swim in all 50 States." Which of Idaho's many water recreation areas took the top spot?
More From KMON Country 560 AM