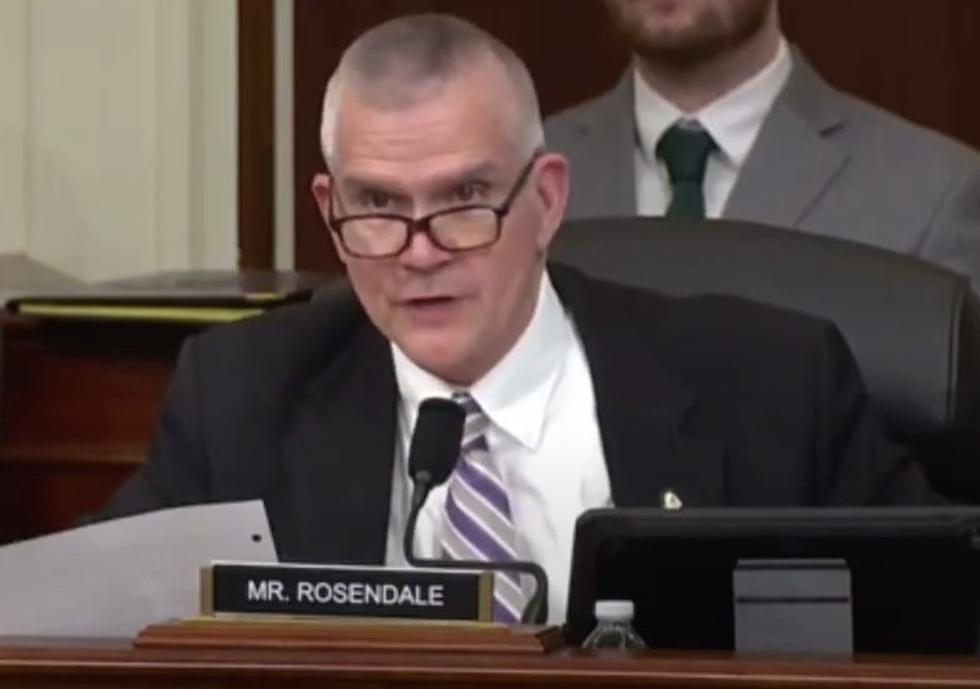 Rosendale Meets With Several Great Montana Youth & Gives D.C. Update
Congressional Photo
US House of Representative Matt Rosendale stopped at the studio to give an update on some bills that he is working on in Washington D.C.
With New Energy policies in place, we might be able to be a little warmer in the summer and a little cooler in the winter.
H.R. 1 the Lower Energy Costs Act
We took all of the different pieces of legislation that we had introduced, to not only increase our domestic energy production, but to streamline the permitting process for mining for all the critical minerals that we need here in our country. We also tried to streamline the permitting for pipelines and the different refineries and export facilities so that we can, not only produce our natural gas across this country, which we have so much of an abundance of, but also get it piped to the locations that need it and also have the facilities so that we can export it so that we can help our allies over in Europe. That is one of the biggest problems that they have, and that gives Russia the ability to keep a strong hold on a lot of those other European nations. So that's why this was designated as H.R. 1. To increase the domestic energy and to increase our critical minerals right here in the United States is not only good for us economically, but it's great for our national security. So we were able to push that through. The House had tremendous support. Now it's going to go over to the Senate where.
Meeting With Several Groups in Montana
Yesterday (Wednesday April 5th) was really one of the greatest days that I've had in a while. It was doing presentations and meeting with youths across the state. I started off in in Helena. I flew in and I went up to the state capitol and did a presentation with two outstanding young men that have overcome some challenges in their lives. Witt Williams was born deaf and he had to overcome that. His parents were told when he was born that he would never read beyond a fourth grade level, and here's a young man that continued to strive, work and pursue and graduated from MSU with a 3.75 GPA and is working up in the legislature now. So I had a certificate presentation that had been entered into the Congressional Record to recognize him and I was able to present that on the Senate floor.
We also have another young man, Jack Racicot, an outstanding student athlete, and he had a tragic ski accident at Great Divide in 2021, broke his C5 vertebrae, crushed it. The young man's a paraplegic now bright, hardworking, and ambitious and by golly, he overcame this disability. He is the secretary for Energy and Telecommunications Committee for the Senate right now, and again presented him with the certificate recognized because I told him, these young guys they haven't just achieved a lot, but they are inspirations for so many people, whether it's in the capital or around the state.
From there, I met with the Civil Air Patrol and had a talk about the different training that they're receiving to prepare them for emergency services and trying to help other folks around the state if there's a flood or a fire or whatever.
Then at the end of the day, I finished up here in Great Falls and had a dozen from the Boy Scout Troop 1001 from here in Great Falls. They were working on their citizenship in the nation merit badges, about a dozen of the troop members there and talking about the different merit badges that they were working on, things that they were doing to help the community. It was a really, really great day to work with the youths.
Grizzly Bears- Comprehensive Grizzly Bear Management Act of 2023
We have far exceeded the target population for grizzly bears and they are now becoming habituated where they are not afraid of any kind of interaction with humans whatsoever, and that is problematic. They have spread the northern continental divide population way out into the open range. We had Karli Johnson, who's a member of the Farm Bureau up in Choteau. She came into Washington and testified, did a great job. We had all the scientists given the biology and then Karli says, you know,
I had a mama Griz and two cubs come across my yard and she doesn't want her babies disturbed and I don't want my babies disturbed. My kids are out there trying to play in the yard. You know, we just want to keep our children separated.
It was really a great way to summarize it. Montana has to be allowed to manage these populations. We've got over 2000 grizzly bears between the two populations, the Yellowstone population and the Northern Continental Divide Ecosystem population, far in excess of what you need to make sure that you have a healthy population. We need as a state to be able to manage those populations, and that's why I introduced the legislation.
Product of the United States
I just believe, as most people across the state do, that there is no reason that we shouldn't be able to label beef as a product of the USA. So you can label your t-shirts, you can label your cell phone, we can label every single product that you purchase in the store. There is no reason why, that we can't label the beef. When you do it though, and it says product of the USA, by golly, it has to. People need to know that it was born, that it was raised, and that it was butchered right here in the USA, or else it simply is false advertising. So that's what this legislation will say, that you cannot use that Made in the USA label unless it was born, raised and butchered right here in the USA. I'm going to facilities across this entire state and it's really great to see the processing facilities that are starting to crop up because we have such a demand and people do recognize they want to have their food processed and provided right here locally. I went down to a facility in Hardin three weeks ago. They've got USDA approval now. They're butchering their own beef. So they're raising it, they're butchering it, and they're selling that across the nation, and we need more of that. But again, that label, when you look at it and it says USA on it, you need to know that it truly is.
Bipartisan Ban on Congressional Stock Ownership Act
People need to know that they can trust that the decisions and the votes that are being cast are in the best interest of their constituents, and that is all that is being considered. When you have the ability to purchase stocks, individual stocks, as a member of Congress, in my opinion, it is much worse than insider trading. Insider trading means you get a tip about a corporation that is buying, selling, crashing, climbing, whatever, and you act upon that tip. When you're a member of Congress, it is much worse than that because you literally have the ability to manipulate the value of that stock by the regulatory or tax climate that you impose upon a sector of the industry, and that is wrong. So we introduced it in the last Congress and we're bringing it back up again. We've got tremendous bipartisan support. But it's very interesting, the people that are day trading, they don't want to sign off on that. We've put a provision in there because there's people that enter into Congress that may have owned individual stocks or, inherited it. We put a provision in there that allows for a certain amount of time so that they can liquidate that so that they're not put into a position where they have to have a fire sale. I personally don't even like the idea of the, what they call the blind trust, because only the people that are in the very top level of those investments are able to do that blind trust. Everybody else really can't do it. So you want to talk about protecting the one percenters. Let's cut that language out of it and say, no, if you're going to be a public servant, then you're going to be a public servant.
If you have a story idea or something you want to learn more about, give Randy a call at 406-788-3003 or send me an email at randall.bogden@townsquaremedia.com
Amazing Wildlife Viewing At Colorado Drive-Thru Refuge
Colorado's Rocky Mountain Arsenal Wildlife Refuge is a fantastic place for wildlife viewing.
The
Rocky Mountain Arsenal National Wildlife Refuge
actually isn't all that new, but there are plenty of folks in Colorado who are yet to make the discovery. With more than 15,000 acres of land, it's one of the largest urban wildlife refuges in the country.
Wyoming Ranch Motion-Triggered Wildlife Cam
More From KMON Country 560 AM