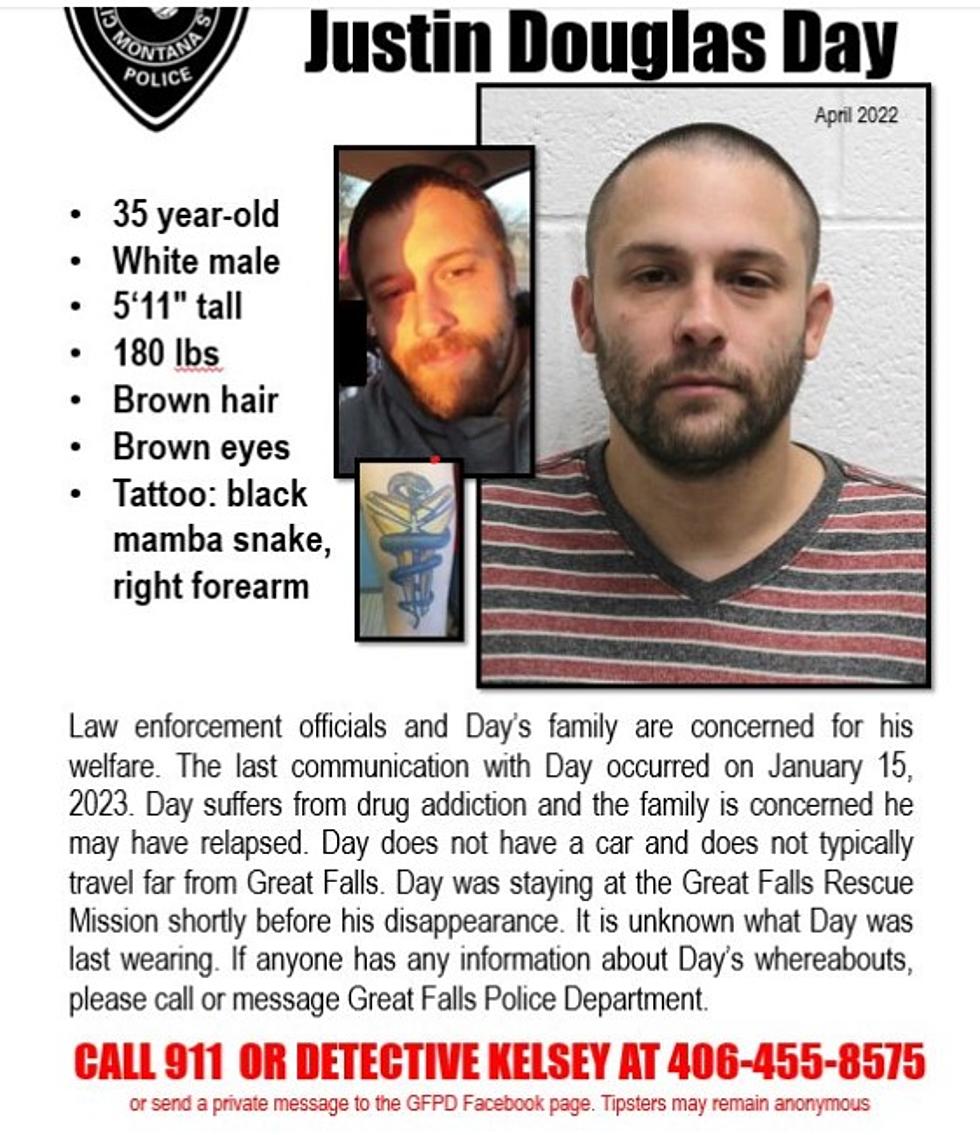 Great Falls Police Issue Missing Person alert. Who Is He?
Great Falls Police
Great Falls Police have issued a missing person alert for a 35 year old man who they say hasn't been seen since January 15.  The family of Justin Day fear he has relapsed.  He suffers from drug addiction.
The family also says he does not typically travel far from Great Falls because he does not have a  car.  He had been staying at the Rescue Mission shortly before his disappearance.
But our newsroom has learned there is more to the story.
Day was convicted in September of last year for assaulting his four year old daughter.  Day was arrested back in 2019 after a daycare worker called police after seeing a large bruise on the girls chest.  The day before,  the mother of the child confronted day and he denied it. When Day was confronted by police his story changed.  He told them that he was attempting to break up a fight between his four year old daughter and her  brother and he grabbed her from the front and tried to hold her down in attempt to restrain her.  The daughter told a Family Services employee that "daddy" did it.
This Weeks Mugshots.
He was sentenced to a 60 month deferred sentence in Cascade County District Court.  According to the Montana Prison Inmate Search System, he  absconded from Great Falls probation and parole on February 15th.
KMON Country 560 AM
Below is his state prison mugshot along with his record.
DOCKET: DDC-19-325
COUNTY: Cascade
JUDGE: Parker
COUNTS: 1
LEGAL TYPE: Probation Violation Sentence
SENTENCE TYPE: Deferred Sentence
OFFENSE: Assault on Minor
CODE: 455212
OFFENSE DATE: 5/11/2019
SENTENCE PRONOUNCED: 9/7/2022
SENTENCE (MONTHS): 60
The Top 15 Best Lakes In Montana
See The Top 15 Best Lakes In Montana
More From KMON Country 560 AM