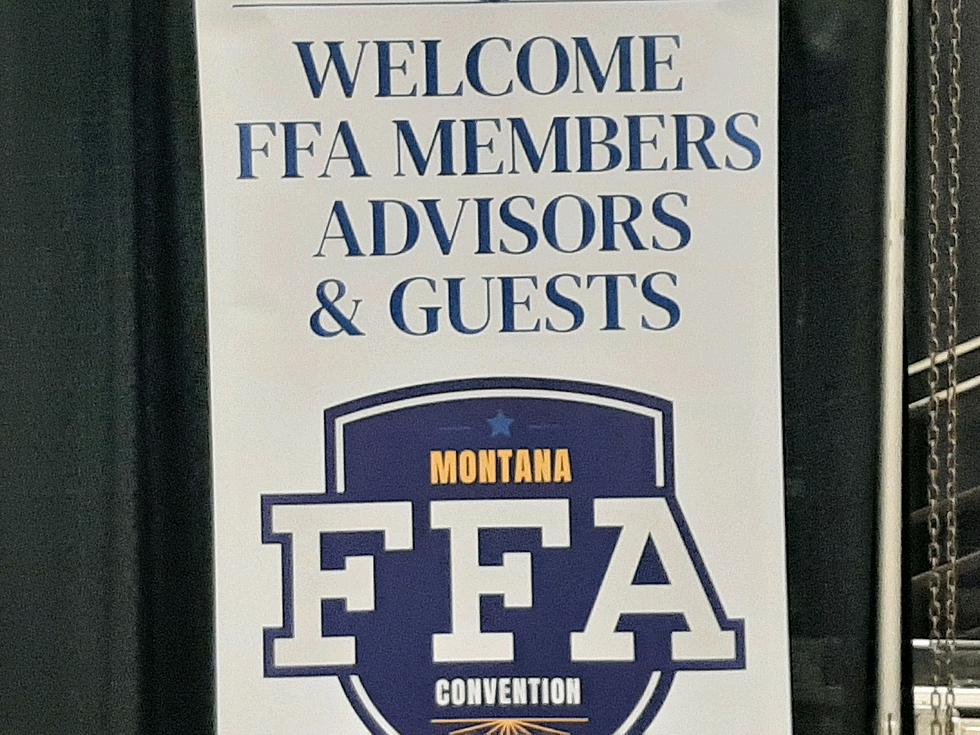 Montana FFA Welcomes In The New 2023-2024 State Officer Team
Photo Credit Randy Bogden
The Montana FFA concluded its 93rd Annual State FFA Convention in Great Falls handing out many awards and recognition.
Read About FFA Legacy Family- Kuntz
The highlight of the day was the announcement of the 2023- 2024 State FFA Officer Team.  This group of 8 leaders will travel the state over the next year putting on workshops, working with FFA students and speaking with donors.
Read About FFA Legacy Family Christensen
Their year of service will be educational to them as well.  They will travel to the west coast on a commodity grain tour and they will spend countless hours interviewing with the media to help get the word out about Montana FFA.
Read About FFA Legacy Family Standley
You will see this group back in Great Falls for the 2024 KMON MAGIE next January.  They will be here this summer during the Montana State fair and you will also see them around town for various other events.
Read About FFA Legacy Family LaLiberty
Montana FFA inducted 187 State FFA Degree Recipients at this years convention. 
A Blast From The Past- It Is True, Teammates For A Year, Friends For Life!
Serving the MT FFA as a state officer for a year is an honor.  The opportunities you get to travel and meet people are endless. The connections you acquire are priceless and the friends you make and lifelong.  The education you get just running for the position will help you the rest of your life.
The 2023- 2024 State FFA Officer Team is:
President:                           Jake Chulyak                      Big Timber FFA Chapter
1st Vice- President:           Summit Browning             Gardiner FFA Chapter
2nd Vice President             Shaun Billingsley               Missoula FFA Chapter
Secretary                            Emily Coles                        Roundup FFA Chapter
Treasurer                            Lance Rutledge                 Big Sandy FFA Chapter
Reporter                             Haley Rigler                       Park FFA Chapter
Sentinel                             Gunnar LaHuag                 Mission Valley FFA Chapter
Parliamentarian                Ayla Yoder                          Plentywood FFA Chapter
Congratulations to all of these new officers and best wishes on your year of service.
Read About FFA Legacy Family Stevenson
The Montana FFA is a state wide organization that has over 5000 students in 108 chapters.  The FFA is an intra-curricular activity which means that to be a part of the organization you must attend a agricultural education class offered by the school.  Sports are extra-curricular, which means you only need to attend the school to participate. These kids/ young adults are the future of our country and our world.
Congratulations to all of the chapters and members of the Montana FFA!
If you have a story idea or something you want to learn more about, give Randy a call at 406-788-3003 or send me an email at randall.bogden@townsquaremedia.com
Step Inside as the Circus Comes to Town
The latest show created by the Hideaway Circus is called "Stars Above" and this is what it looks like.
What You Wanted In The Old Circus Drive-In Lot
More From KMON Country 560 AM